"This wooden dummy with a straw hair is clothed in rags. Numerous imprints of hands, feet and even of teeth indicate that this dummy has been performing the role of the princess since she was very young."
Used during the "Final Trials" quest.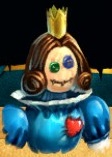 Using the item allow you to examine the doll and leave your sign on the doll. Later you can question Iron Richard about.