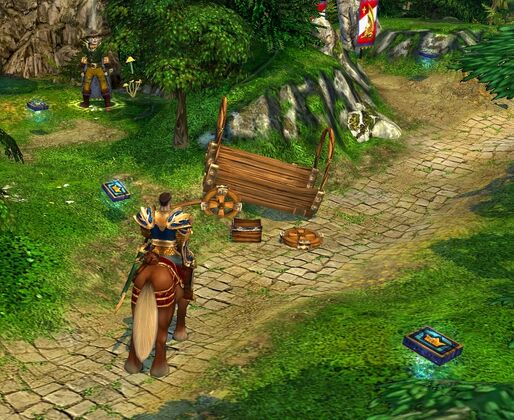 "It's your first mission on the king's service!
Rogues have robbed the tax collector. The crime took place on the main road, leading east to Arlania. You are to find the wagon and return all the stolen plugens to the king."
Objectives
Edit
Find the 400 stolen plugens
Punish the rogues who robbed the wagon
Bring all the recovered plugens to the castle
Walkthrough
Edit
A relatively easy mission, you obtain it right after finishing "Letters of References". When you finished your briefing with King Mark, fill up your army with Bowmen, Swordsmen, Peasants and Priests and move to the road leading East from Castle Kronberg. The plugens will also be spread around that area. Here their positions.
One next to the moat, on the east edge leading to the castle.
Three near the road sign pointing to Arlania.
Three near the broken down cart (near the robber enemy unit).
Three east of the robber.
Watch out for other armies roaming around, some of them are way too powerful to be faced now.
If you attempt to get the three near the Robber, you will be probably spotted. Don't worry, if you have filled your army the battle should be easy. Its band is made by 11 Robbers and 7 Marauders (on normal).
Defeat him to get the last plugens and then return to Kronberg to finish the mission.